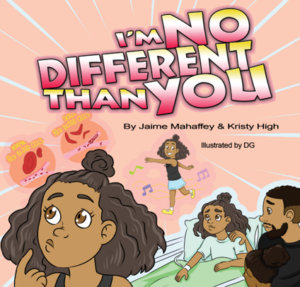 Two health educators have written a children's book about living with sickle cell disease (SCD).
I'm No Different Than You tells the story of Kayla, a girl who has a positive outlook on life despite the challenges of managing a chronic medical condition. After having to attend a new school, Kayla is worried about how others will react to learning that she has SCD. Kayla's friendships are quickly changed by the lack of understanding, and fears of the other children.
The authors, Jaime Mahaffey MSW, LISW, and Kristy High, MEd, wrote the book in honor of children who suffer from chronic medical conditions. Mahaffey, a social worker, has a 15-year-old daughter, Kayla, who was diagnosed with SCD shortly after birth. High, a health and wellness educator, is the godmother of 12-year-old Kristy who also lives with sickle cell disease. Both children have encountered situations in school that involved bullying and other social issues because of having SCD.
Mahaffey and High hope the book will help bring understanding and awareness for children with SCD.  The authors want children with SCD realize that they are not alone and that it is possible to lead a happy and healthy life.
The book is available on Amazon.com – search by author name (Kristy High or Jaime Mahaffey) since title sometimes does not always come up. 
Order here
About the Authors
Jaime Mahaffey MSW, LISW is a social worker with several years of experience working with children with chronic medical conditions.  She is also the mother of a special little girl who was diagnosed with sickle cell disease shortly after birth.  Jaime has a master's degree in Social Work from the University of Cincinnati and is a Licensed Independent Social Worker. She is passionate about connecting with families and providing quality health education in a manner that is relatable and easy to understand. Jaime has spent the last 14 years learning about SCD and helping her daughter navigate a world full of fear and lack of understanding about SCD.
Kristy High, MEd is a health and wellness educator with several years' experience working with the pediatric population educating on various health and wellness topics that are prominent today. Kristy has a master's degree in Health Education with a concentration in health promotion from Virginia Tech. She is passionate about enhancing the knowledge of families and meeting them where they are to assist in improving their quality of life.