Join Sickle Cell Disease Association of America, Inc. for its 2020 Advocacy Day as we advocate for those affected by sickle cell disease (SCD).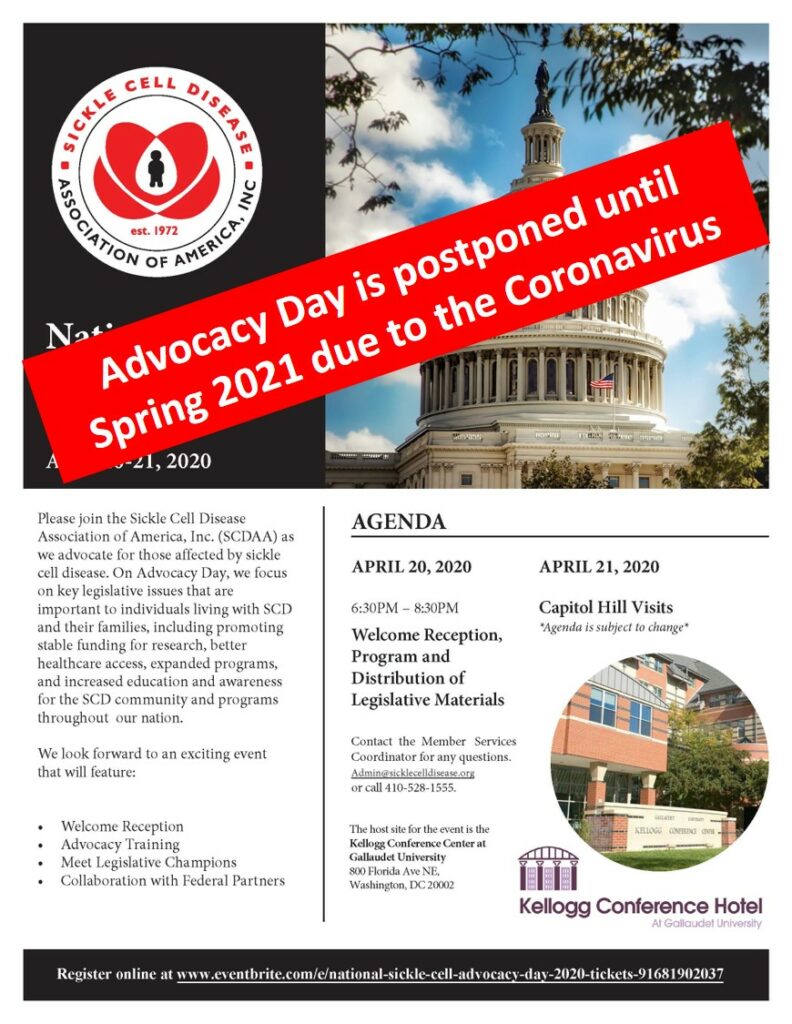 Download Prospectus
Click here to register today!
Click here to download flyer
Click here to see when you can board the shuttle at Gallaudet to get to the Metro subway.
Conference Center Parking Pass
Click here for Gallaudet Campus Map 
Click here for directions from Union Station (Metro) to the Rayburn Building for your meetings with legislators.
Click here to see the map of the Metro.
The host hotel for the event is the Kellogg Conference Center at Gallaudet University located at:
800 Florida Ave., NE
Washington, DC 20002
BOOK YOUR HOTEL ROOM
The event will be held in Washington, DC from April 20-21, 2020 at the Kellogg Conference Hotel at Gallaudet University and on Capitol Hill. This year's Advocacy Day campaign will focus on key legislative issues that are important to individuals living with SCD and their families, including promoting stable funding for research, better healthcare access, expanded programs, and increased education and awareness for the SCD community and programs throughout our nation. We look forward to an exciting event that will feature:
  Welcome Reception
  Advocacy Training
  Meet Legislative Champions
  Collaboration with Federal Partners
Advocacy Day plays a significant role in extending our outreach strategy to further engage elected officials on the multifactorial aspects of sickle cell disease, to share personal stories from individuals living with SCD, and to advocate for key legislation that would address research funding, community health responses, and improved treatment options.
The two-day event brings together individuals representing our 46 chapters, affiliates and supporters representing 35 states from across the country to meet with Members of Congress and staff members, and to connect with one another.
AGENDA
APRIL 20th
6:00pm 
Registration Begins on the first floor in Ballroom ABC
Kellogg Conference Hotel at Gallaudet University
800 Florida Avenue NE, Washington, DC 20002-3695
6:30pm-8:30pm

Welcome Reception, Program & Distribution of Legislative Materials
APRIL 21st
Capitol Hill Visits – We will take a group photo at 9:30 am in front of Rayburn House Office Building, 45 Independence, Avenue, SW, Washington, DC 20515. Wear red, comfortable shoes and your lapel pins that will be provided to you during registration.
Pictures at 9:30 in front of Rayburn House Office Building — 

45 Independence, Avenue, SW, Washington, DC 20515

Wear comfy shoes
Wear your lapel pins that will be provided during registration
For more information or questions, please contact SCDAA Member Services Advisor Alexcia Scott-Mitchell at AScott-Mitchell@sicklecelldisease.org or call 410-528-1555, ext 113.