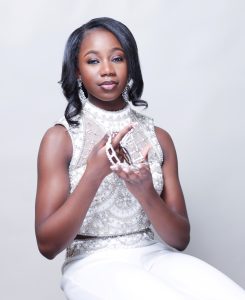 Ayana Lee Johnson is our 2021-2023 SCDAA National Teen Ambassador. She is determined to fight for other SCD warriors and raise awareness of what it is like to live with sickle cell disease to anyone who will listen. In her role as SCDAA National Teen Ambassador, Ayana makes public appearances and acts as an emissary, assisting with education campaigns and securing public and private sector support for the SCDAA mission. She serves as a goodwill ambassador for SCDAA and is a positive role model for teens and other individuals living with sickle cell disease. She lives in Virginia.
Ayana is resilient and determined not to be limited or defined by SCD. In addition to being an honors student, she is a competitive dancer with many national titles and has been accepted into summer intensives with both the Dance Theatre of Harlem and the Joffrey Ballet School. She also plays violin and competes in pageants. She currently holds the title of Miss America's Outstanding Teen Piedmont Region 2020-2021.
She was featured in Suffolk News Herald's 20 Under 21, and among her many accomplishments, she is the recipient of the St. Peter Claver Service and Sickle Cell Activism Award; the Making the Difference – Sickle Cell Champion Warrior Award and Scholarship; and the 2019 Excellence Girls Club Pioneer Award. In 2020-2021, she completed 200 volunteer hours, some of them working as an American Red Cross Blood Drive escort and greeter.
"Sickle cell disease does not define me," said Ayana. "I am a warrior living my best life."