SCDAA's 48th Annual National Convention 2020 Is Going Virtual!
Given the current uncertainty regarding COVID-19 and its implications for attendee safety and travel, as well as for public health concerns, SCDAA'S 48th Annual National Convention is moving to a virtual gathering!
Registration for the 48th Annual National Convention is open!


Join hundreds of healthcare professionals, patients, families, CBOs, community leaders and advocates on Tuesday, October 13 through Saturday October 17th   for a richly engaging and educational multidisciplinary conference.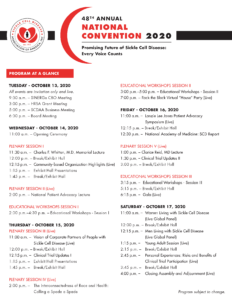 Why Attend?
Inspiring Speakers

 

– Expand and enhance your knowledge with innovative and current best practice strategies by leading experts, memorable experiences, and collaborative sessions.
Applying for Continuing Education Credits.
Dedicated Sessions – Look forward to sessions built around multidisciplinary care and designed to inspire and challenge your thinking regarding the management, care, and clinical trials of patients with sickle cell disease.
Engaged Community  
Connect and interact with healthcare leaders and professionals, and leave with new relationships, knowledge, inspiration, and resources.
This four-day conference is designed to address the multi-factorial aspects of SCD and SCT and to advocate for improved quality of life for individuals and families affected with SCD. The conference fosters the exchange of the latest scientific and clinical information related to the disease through the offering of innovative symposia, training seminars, interactive panel discussions and special events. During the day, join us for crucial sessions lead by inspiring speakers, including but not limited to:

Sickle Cell Newborn Screening for Africa Lessons: A Collaborative Initiative | Professor Baba Inusa, M.D., FRCPCH, FMCPaed (Charles F. Whitten M.D. Memorial Lecture)

The Interconnectedness of Race and Health: Calling a Spade a Spade | Cato T. Laurencin, M.D., Ph.D.

Charting a New National Course for Sickle Cell Disease | Admiral Brett P. Giroir, M.D., Assistant Secretary for Health at the U.S. Department of Health and Human Services (Clarice Reid M.D. Lecture)
Additionally, we'll host some fun evening events for the sickle cell community, including the "Sickle Cell Speaks: Pass the Mic!" live karaoke talent show, the "tWitch Do U Broadcast" with tWitch, DJ for the Ellen DeGeneres Show. On the last night of the conference, join us for a Gala to celebrate the accomplishments of community leaders and the progress made this year fighting against SCD.
Scholarships
We are pleased to offer scholarships for patients to attend SCDAA's National Convention next month. We will accept applications from individuals in the United States and internationally on a first-come, first-served basis. We've reduced the cost to attend the Convention per scholarship to $25 USD. We will provide up to 50 scholarships to international patients; U.S. patients should note that we are only accepting applications from those associated with a member organization. Click the corresponding link below to apply:
Once selected, accepted applicants will receive a discount code to register.