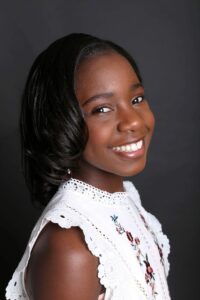 Sickle Cell Disease Association of America (SCDAA) named 14-year-old Ayana Lee Johnson the 2021-2023 SCDAA National Teen Ambassador. She was selected through a nationwide competition formerly known as the Poster Child Contest that started in 1976. Her reign will begin with an official coronation during SCDAA's Annual National Convention Oct. 12-16.
In her role as SCDAA National Teen Ambassador, Johnson will make public appearances and act as an emissary, assisting with education campaigns and securing public and private sector support for the SCDAA mission. She will serve as a goodwill ambassador for SCDAA and be a positive role model for teens and other individuals living with sickle cell disease.
"SCDAA is thrilled with the selection of Ayana as our new Teen Ambassador," said SCDAA President and CEO Beverley Francis-Gibson. "Her determination to fight for other SCD warriors and raise awareness of what it is like to live with sickle cell disease to anyone who will listen, along with her sparkling personality, are just a few reasons why she was chosen. She is resilient and determined not to be limited or defined by SCD."
Johnson is an honors student at Nansemond River High School in Suffolk, Virginia, and she attends the Governor's School of the Arts. She is a competitive dancer with many national titles and has been accepted into summer intensives with both the Dance Theatre of Harlem and the Joffrey Ballet School. Johnson also plays violin and competes in pageants. She currently holds the title of Miss America's Outstanding Teen Piedmont Region 2020-2021.
"Sickle cell disease does not define me," said Johnson. "I am a warrior living my best life."
Johnson was featured in Suffolk News Herald's 20 Under 21, and among her many accomplishments, she is the recipient of the St. Peter Claver Service and Sickle Cell Activism Award; the Making the Difference – Sickle Cell Champion Warrior Award and Scholarship; and the 2019 Excellence Girls Club Pioneer Award. In 2020-2021, she completed 200 volunteer hours, some of them working as an American Red Cross Blood Drive escort and greeter.