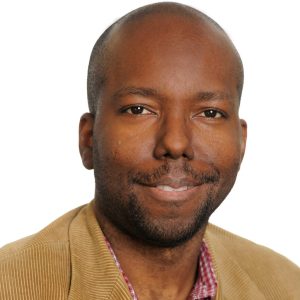 We are devastated to share the news of the passing of Carlton Haywood, Jr., Ph.D., on December 31, 2021. Carlton was an accomplished academic whose research focused on bioethics and sickle cell. His experiences as a sickle cell warrior guided his work as a scholar and an advocate. As such, Carlton was a well-respected and celebrated voice in both the sickle cell and research communities. 
Carlton grew up in Atlanta, Georgia, and never let sickle cell get in the way of his achievements. He received a bachelor's and master's degree from the University of Virginia and completed a doctorate of philosophy in health policy and bioethics in the department of health policy and management at the Johns Hopkins Bloomberg School of Public Health. After completing his studies, he became a faculty member at the Berman Institute and the department of hematology at the Johns Hopkins School of Medicine.
"Carlton had a unique perspective as both an academic professor at a prestigious institution and an individual living with sickle cell disease who could link the academic theories to 'lived experience,'" said Lewis Hsu, M.D., chief medical officer of the Sickle Cell Disease Association of America. "He generated some of the first scholarly publications on the injustices suffered by individuals with sickle cell disease. He called attention to issues that inhibit sickle cell disease care and research and worked effectively to resolve them. His quiet determination was inspiring to me." 
He was a dedicated sickle cell advocate and spent his career studying important issues to the sickle cell community, including patient-centered care and trust in the medical industry. His research also addressed the intersections of bioethics and clinical research, and his work earned him national recognition and helped inform sickle cell policy. We invite you to read more about Carlton's life and career in
this article
.
SCDAA mourns the loss of Carlton, and we send our deepest condolences to his family and friends. A memorial will be planned at a later date.